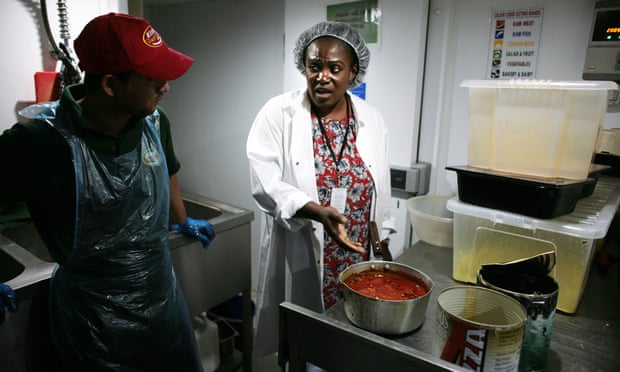 Sharon Nkansah offers up food storage advice at King's Peri Peri Chicken in East Ham, east London.
Photograph: Martin Godwin for the Guardian
When you've been a food safety inspector for as long as Sharon Nkansah, you know how to smell a rat.
"Last month, there was a place I inspected [where] I walked in and you could smell it," she says. "You can smell mouse activity. They had droppings in fridges, where they have their sauces, where they have their cutlery; the droppings were everywhere. So I just said: 'Pull the shutters down'."
You also learn tricks to catch out wily business owners. The best time to inspect a suspect business is in the morning, she says, before staff have had a chance to sweep up anything nasty deposited overnight.
Nkansah has worked as a food safety inspector for Newham borough council in east London for 10 years. As we move between businesses throughout the day, she is fun and chatty, talking about her children and her recent holiday, but as soon as she's in a kitchen, her bright patterned dress is covered with a white coat and her braids are tucked under a hairnet. She becomes brisk, businesslike, at times tough.
Her repeated refrain, delivered to staff at the takeaways she inspects who ask her for food hygiene advice, is: "I am not here to train you, I am here to enforce."
A firm approach is needed in Newham. A Guardian analysis of Food Standards Agency data found that the borough has the lowest food hygiene scores in the country: 26% of its food businesses fail inspections, rising to 50.4% for takeaways. Far from being embarrassed by these numbers, Matthew Collins, a principal environmental health officer at the council, and Nkansah's boss, sees them as a point of pride.
"I think it's an indication that we're out doing our jobs," he says.
Nkansah began her career as a chef, but wanted a job with more child-friendly hours after having children, so did a one-year degree in food hygiene and began working as an inspector in Newham.
Cuts to local government funding have meant the number of food inspectors has declined in recent years. The ratio of food safety inspectors to businesses has dropped from 4.2 full-time inspectors per 1,000 food businesses in 2012-13, to 3.7 per 1,000 in 2014-15. This figure is dragged down considerably by England, where there are only 3.2 officers per 1,000 businesses, compared with 5.7 per 1,000 in Scotland, Wales and Northern Ireland.
The job, says Nkansah, is satisfying, but it comes at a cost: she has seen what goes on in the back rooms of takeaways, cafes and restaurants.
Before going to a new restaurant, Nkansah says she always looks up its food safety rating. When asked if she would eat somewhere that scored zero, one or two, Nkansah is appalled. "Absolutely not," she says.
On a good day, Nkansah can inspect three establishments. On a bad day, if she visits businesses where standards are very poor and the management is either belligerent or impossible to track down, she can spend half a day trying to evaluate one.
KFC: High Street North, East Ham
Nkansah starts at KFC on the high street. She is expecting big things here: large chains often do well with food safety and at its previous inspection in March 2014, this KFC branch was given the highest possible score of five.
Inside the KFC kitchen, the first thing Nkansah does is wash her hands. "It's a way of testing if they have adequate hand-washing facilities. If they don't, that's not a good start," she says.
KFC's hand-washing station passes muster and Nkansah then works her way through the kitchen, starting at the entry point for deliveries, before moving on to the tills.
Nkansah is happy with everything – the general cleanliness of the kitchen, the way food is stored and the waste management system. The temperature of the freezer and fridges are good, and she is pleased to see a designated raw chicken preparation area.